Twist Collective Blog
Design Process: Damariscotta
Details

Published on Tuesday, 13 April 2010 20:27
Cross posted from MarnieMacLean.com
The Spring/Summer 2010 Twist Collective is up and it's visually stunning and filled with amazing designs. I was lucky enough to have two submissions accepted, and I will do a blog post for each.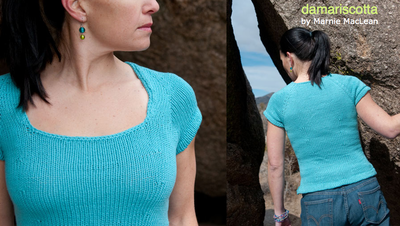 The first piece is Damariscotta
Named for a hard to pronounce but lovely little town in Maine, near where my dad's family has land. I'll sometimes fly out to Maine to go to the Fiber Frolic with my mom, and we'll all stay at a little cabin that my dad built on the land there.
Having grown up in New England and having spent plenty of time in Maine, I associate the area with a love for the ocean, a pragmatic sensibility, and a clean and structural design. I strove to capture those qualities in this top.
The piece is knit from the top down with instructions for an entirely seamless construction, right down to the double-knit hems that are grafted closed. I've also included instructions for people who might run at the sight of the words "graft" or "double-knit" so don't despair if that's not your cup of tea. I also think this piece would be magnificent with a simple lace border around the hem and sleeves, instead of a finished hem shown. A wee bit of single crochet would prevent any curling and it would turn this simple piece into something worthy of a pretty pencil skirt and heels. While I love the idea of a deep angled square neck (image it over a pretty little lace tank,) I knew that wouldn't suit everyone and that is why I chose the top-down construction instead of my preferred method of knitting bottom up. Keeping in mind that the single crochet will pull in the neck a little, one can simply throw the live stitches onto waste yarn and try the piece on to determine the most comfortable and flattering neckline depth and width.
Once you work the neckline you like best, you can shape the torso to follow every curve or leave out the shaping altogether for a more relaxed fit. The sleeves can be worked the same way, and can easily be lengthened to fit your climate and preference. So that's Damariscotta for you. I hope that those of you who like the design will enjoy knitting it, and if it's not your style, I have no doubt there's another piece in this issue that will catch your eye. 
Style Notebook: Timpani, Tough and Tender
Details

Published on Monday, 12 April 2010 09:00
So you fell for Connie Chang Chinchio's Timpani and you finished the knitting: now, how do you wear it?
It's an obvious choice to go with jeans as we showed in the magazine, but Timpani can also be a great topper for skirts, as long as you avoid anything that might make you look like a majorette. You can use it to bring out your sweet side, or your inner Chrissy Hyde-slash-Pink, depending on your musical currency. It's all in the mix. Keep the details to a minimum to let the sweater do most of the talking.


Timpani, Tough and Tender by farwellclay featuring Dr. Martens shoes
A Peek Pehind the (knit) Curtain
Details

Published on Thursday, 08 April 2010 10:09
Right now, twist readers are looking at our Spring/Summer issue and hopefully planning to knit a project or two from the issue. Meanwhile, we're assembling the lineup for fall, thinking about the photo stories that will compliment the sweaters (and socks, natch') and assigning yarn. While we do that, Kate makes a collage of all our projects so we can see them side by side according to how we think they might work together in our editorial "stories." Here is one of the several drafts of our story board for the Spring/Summer issue we just published using shorthand from the design proposals as they might have been photographed together.
You can see the lace story on the left, socks to the right (missing a few there, aren't we?), and the Greenhouse and Rock Formation stories sort of mingling together in the middle.  A lot got changed around there I remember now, looking at it.

Some stories don't necessarily work out the way we plan; in fact I don't recall an issue where something didn't get changed at the last minute. Sometimes we find a model who fits another sweater better, or isn't flattered by a shape or color, so things get moved around, and sometimes they even migrate to a whole other story, which sometimes can be a real nail biter. This last issue, we shot our far-flung stories in Massachusetts, upstate New York, Montreal, and the wilds of New Mexico. I was shipping sweaters out to Jamie in New Mexico the moment I knew they wouldn't work in my shoot, just in time for her to photograph it during hers. The schedule was tight, but everything worked out, and the US postal service was my super hero that week. It's times like those that I wish moving stuff around was as easy as it it to share ideas over the internet: I could really use the Starship Enterprise's transporter during shoot month. "Beam the sweater up, Scotty." But in the end, the spit and polish does wonders, and I am always delighted with the magic of Irene's work in layout. 
Now go knit something.

Spring Has Sprung
Details

Published on Saturday, 03 April 2010 12:44
In case you missed April 1st, the new Spring/Summer issue is live and waiting in the usual place. And yes, you read that right: spring and summer are combined this time around, which means that there are loads of great projects to keep your needles busy until fall.  Happy knitting!
New in Books
Details

Published on Friday, 26 March 2010 10:12
A few books have arrived in my post box in the last fortnight, heralding the spring publishing season.  Two that I'd like to share with you are both from Interweave Press.
Lucinda Guy's Northern Knits is a gorgeous collection of designs, all inspired by the knitting traditions of a particular corner of the Western Hemisphere that is almost as famous as Lucinda Guy is among knitters for a particularly charming take on the knitted garment. It's a natural combination, and the result is a book that will most likely tempt you to make a few things, if only the yarn were more available to the knitter.  I am a bit frustrated by the source materials, although they are a natural choice for these designs. Alafoss Lopi and Jamieson & Smith will be the most accessible to the North American knitter, but gauge swatching and substitutions are inevitable with this book, should you fall hard for one of the beautiful designs.  In this internet age, perhaps it is not so difficult to find yourself some Lodband Einband for a sweater, which is a good thing considering here is the inspiration to try.
Meanwhile, Shirley Paden has published a book I have been wanting for years.  Her Knitwear Design Workshop is a resource for the casual pattern tweeker and serious would-be designer alike. I have always valued the Vogue Book of Knitting for the basics of various sleeve treatments and classic neckline shapes, but Paden here offers blueprints for the modern knitter's expanding repertory of options.  It is illustrated with many sweaters from her own design history, and includes patterns for several new and deliciously textured sweaters, all intended to illustrate the principles at hand.  Add this to your essentials shelf, next to Barbara Walker and Nancy Wiseman. And make something fabulous.